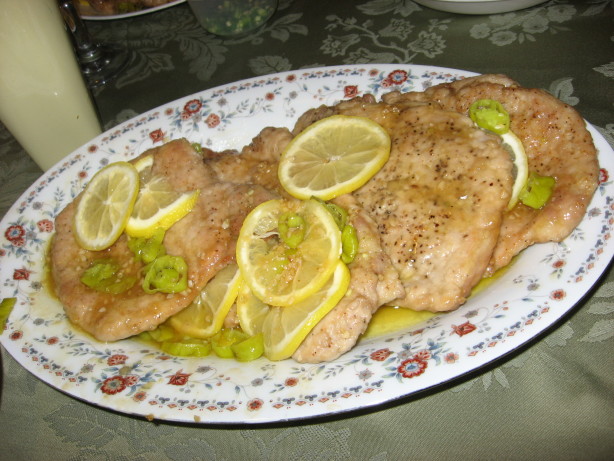 PORCHETTA LIMONCELLO
Buca di Beppo Restaurant Copycat Recipe
Meat:
4 pounds whole pork loin
flour
salt & pepper
3 tablespoons olive oil
Sauce:
1/3 cup butter
1 cup limoncello
3 tablespoons minced garlic
3/4 cup sliced pepperoncini pepper
Garnish:
1 lemon, sliced thin horizontally
5 whole pepperoncini peppers
Cut pork into 1/2 inch thick slices, then pound each piece flat into 1/4 inch thick pieces. Season both sides of pork pieces with salt and pepper, then dredge in flour, shake lightly, and set aside.
Heat olive oil in large non-stick skillet over medium high heat, until smoking. Working in batches (
make sure to leave space between pieces or it won't brown properly
) Saute the pork in hot oil until lightly golden brown on both sides (
about 2 minutes per side
). Set the pork pieces aside when done.
In the same skillet, reduce heat to low and melt butter. Once the butter is melted, add the limoncello (
careful--it will steam very high for a couple of seconds
). Simmer for about two minutes, then add all of the pork pieces, overlapping slightly if necessary. Raise the heat to medium-low, and immediately sprinkle the garlic over the top, then cover pan with lid and simmer five minutes more. Turn pork over, squeeze about six lemon slices in between pork and layer the top with pepperoncini slices. Cover and simmer an additional three minutes. Pork should have a deep golden color when done.
Arrange the pork on a serving platter, drizzle any remaining sauce over the meat, then garnish plate with remaining lemon slices and whole pepperoncinis.