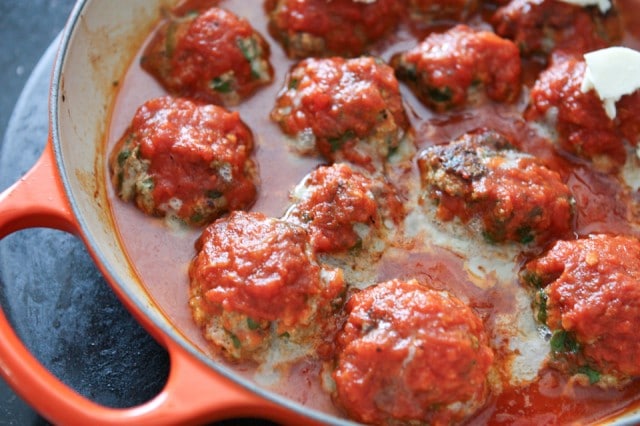 PASTA PRIMAVERA with Spinach Ricotta Meatballs
Buca di Beppo
Meatballs:
2 pounds lean ground beef
1 teaspoon salt
1 teaspoon ground black pepper
3/4 cup Italian breadcrumbs
1/2 cup grated parmesan cheese
3 eggs
2 tablespoons roasted garlic
10 ounces ricotta cheese
6 ounces fresh spinach, blanched, drained and chopped
1 quart marinara sauce
In a mixing bowl evenly layer portions of ground chuck with mixed dry ingredients, eggs, garlic, ricotta cheese and spinach. Gently mix by hand for 30 seconds, breaking up any pockets of ingredients. Mix additional 30 seconds. DO NOT OVERMIX INGREDIENTS (
overmixing will cause meatballs to be tough
).
Gently shape mixture into 2 ounce balls (
1/4 cup each
) and place on parchment lined cookie sheet. Cook meatballs in 400 degrees oven for 10 minutes. Remove from oven and using tongs transfer meatballs to a casserole dish 2 inches deep. Pour marinara sauce over meatballs. Cover pan with aluminum foil and bake at 375 degrees for 15 minutes. Meatballs are finished when they reach an internal temperature of 165 degrees for 15 seconds.
POMODORO CAPELLINI
1 tablespoon olive oil
2 ounces chopped garlic
2 cups diced tomatoes
1 pinch salt & pepper
1 cup marinara sauce
1 tablespoon basil, julienne cut
1 pound cooked capellini pasta
parmesan Cheese, shredded
Heat olive oil in saute pan. Add chopped garlic. Cook until light golden brown. Add diced tomatoes and salt & pepper. Cook until slightly soft. Add marinara sauce and simmer 5 minutes on medium high, stirring as needed. While sauce is cooking, drop pasta into boiling water and cook until al dente. Strain pasta and return to pan. Add 3/4 of sauce to pasta and toss using a wooden spoon.
Once the sauce and pasta are tossed well, place into a bowl and top with remaining sauce. Sprinkle shredded parmesan cheese over top of pasta and sprinkle basil over top.